BCPI FCC Pricing
| | | | |
| --- | --- | --- | --- |
| CLIN | DESCRIPTION | UNIT/ISSUE | UNIT PRICE |
| 1001 | Regular Copy Service | Per Page/Day | $0.30 |
| 1002 | Expedited Copy Service | Per Page/Day | $0.40 |
| 1003 | Debit Card Service | Per Unit | $25.00 |
| 1004 | Document Search and Retrieval Service | Per Hour | $60.00 |
| 1005 | FCC Provided Service - Daily Releases | Per Page/Day | $0.12 |
| 1006 | Daily Digest Subscription Service | Per Page/Day | $0.12 |
| 1007 | Shipping/Handling Services | Per Order | $6.00 |
| 1008 | Database/ECFS/We/Printing Service | Per Page/Day | $0.32 |
| 1009 | Diskette to Diskette /Zip Disc Copy Service | Per Disk | $18.00 |
| 1010 | CD Rom to CD Rom Copy Service | Per CD | $25.00 |
| 1011 | Microfiche to Paper Copy | Per Page/Day | $0.35 |
| 1012 | Map/Odd Size Copy Service (over 8.5"x14") | Per Page/Day | $5.00 |
FCC Research Retrieval Service
Our office is inside of the FCC building and we have full complete access to FCC files, FCC divisions, FCC bureaus and FCC archives! We are the official contractor given top priority by the Federal Government in handling FCC documents to benefit the public.
FCC Subscription System
This is a daily service in which you receive all of the Non Docket filings, Docket filings and hard copy Ex Parte filings. (By Email in .PDF format)
Late Release Service
These are filings the FCC releases throughout the day after they have posted the Daily Digest. These filings are not available until the next day.
Electronic Ex Parte Service
Receive the first page of each day's Electronic Ex Parte filings as soon as they are available. (By Email in .PDF )
Request FCC Documents
For assistance in purchasing document subscriptions, FCC Communications, Files & Documents. Please contact us:
(202) 488-5300 or (1-800) 378-3160
FCC Services
Direct FCC Access
BCPI has an Office inside
of the FCC building, Room CY-B402
We have full & exclusive access to
all FCC Communications files & documents.
fax: (202) 488-5563
tty: (202) 488-5562
E-mail- requests, orders & questions : fcc [at] bcpiweb.com
We Accept All Major Credits Cards

Our Hours:
Monday - Thursday 8:30am - 5:30pm
Friday 8:30am - 3:30pm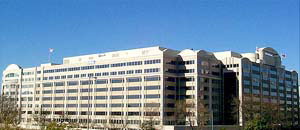 FCC Washington DC location
BCPI is the official FCC Copying & Duplicating Service
See our FCC information page here.
Best Copy & Printing, Inc.
Portals II
445 12th St. S.W.
Room CY-B402
Washington DC 20554
DocuXplorer
DocuXplorer allows a user to centralize the access point into a whole realm of stored digital data: records, images, email, faxes, and any other type of paper or electronic files.